University Diagnostic Medical Imaging, P.C. ("UDMI") is committed to keeping up with the technological advances in radiology and incorporating them into the practice.  As such, we have further enhanced our cutting edge breast imaging technology by adding 3-dimensional (3D) digital breast tomosynthesis machines to our comprehensive list of Women's Imaging services.
2D Mammography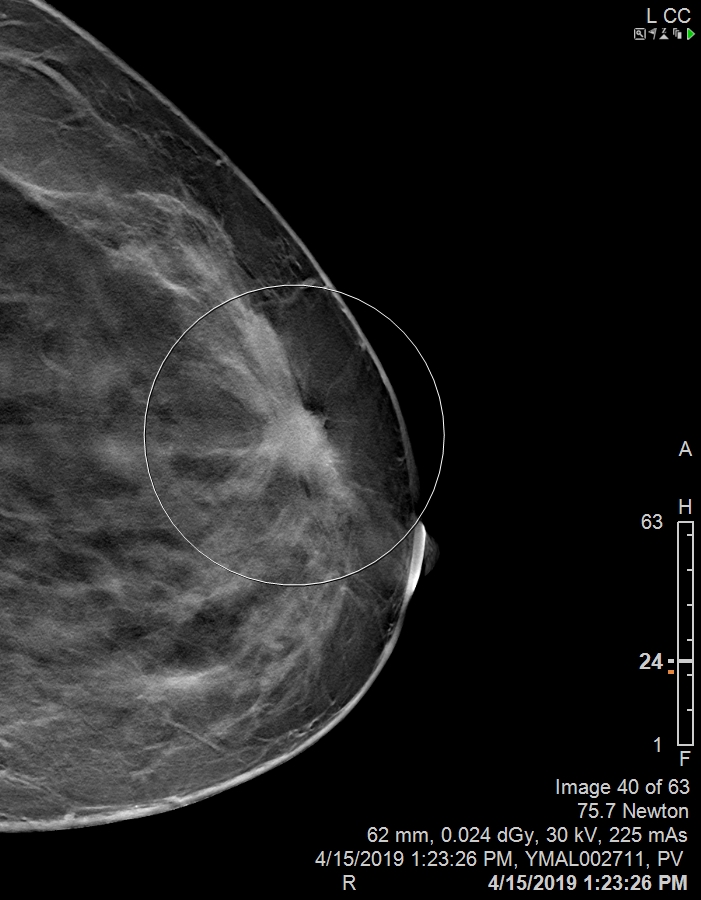 3D Mammography
3D tomosynthesis is a new type of digital X-RAY mammogram that is different from a standard mammogram. Standard Mammography includes two Digital Radiography (X-RAY) of each breast from different angles. Standard mammograms are very effective, but are limited by dense breasts and overlapping tissue. 3D tomosynthesis overcomes these issues by taking multiple images of each breast allowing visualization of the breast tissue through multiple layers and angles collectively resulting in a 3D image.
As reported in the Journal of American Medicine Associates (6/25/14), the addition of 3D tomosynthesis to digital Mammography is associated with a statistically significant increase in the cancer detection rate and a decrease in the rate patients are called back for more images.
FOUR REASONS TO CHOOSE TOMO
More Comfortable Exam: The new machine is designed to be more comfortable with less compression than the traditional 2D mammogram.
3D Image: The multiple images taken create superior depth resolution and tissue layer separation for a more reliable diagnosis of malignant tumors, compared to standard 2D Mammography alone which reduces the reasons to call you back for more imaging at different and often uncomfortable angles.
Excellent Image Quality: The processing software is designed to improve detail and contrast making it easier for the radiologist to detect malignant tumors.
Comparable Radiation Dose: Studies found that the image quality is achieved with lower radiation doses than a traditional 15-degree system which took fewer images and often required additional views and images.
FREQUENTLY ASKED QUESTIONS
What are the advantages of having a screening 3D mammogram? 3D improves the detail and accuracy of the mammogram and may reduce the necessity for additional imaging.
How much longer is a 3D mammogram than a standard mammogram? It will take just a few seconds longer, but you may not even notice.
How much radiation will I receive? The radiation dose of tomosynthesis is well below the FDA-regulated limit for standard Mammography and is deemed to be safe and effective for patient use.
Can I choose not to undergo a tomosynthesis exam? Yes, and a standard 2D mammogram will be performed.
When will I get my results? Your physician will receive your results within 48 hours of your exam.
Why should I choose UDMI for my screening? Unlike many facilities in the Bronx, UDMI's physicians are on site and available to answer questions. Additionally, UDMI is a full-service radiology facility that performs not only Mammography, but also, breast Ultrasound, breast MRI, and procedures such as breast biopsy which means, if needed, all necessary studies can be performed in one location and often on the same day.
Will my insurance cover this? NYS law requires insurance companies to cover a tomosynthesis examination if it is medically necessary.*
*Exclusion, self-funded plans. Please confirm with your insurance company about coverage before your appointment. If your insurance company does not cover this test in full, you will be responsible for the difference