Reports:
Patient Portal: To view and print reports, log in to UDMI's Patient Portal. Here, you can also view/pay any outstanding balances and view upcoming appointments.

How to Register
Note, you will only need to register once
At the top of our webpage, click "PATIENT PORTAL" or CLICK HERE
Under the heading "Create Portal Account" Select "Register Existing Patient"
Fill in all fields and click "Register"

IMPORTANT: Make sure all of the information you provide (name, date of birth, zip code, and email) matches what you have on file with us. Any items that do not match may prevent you from registering. If you're not sure, LIVE CHAT us now to confirm

You will receive an email to the address you provided in your registration to activate your account. Open that email and hit "Activate Account". YOU WILL NOT BE ABLE TO LOG IN without completing this step
Once your account is activated, you may use your login credentials to access your personal health information
Please note that there is a 72-hour holding period before your report will appear on the Patient Portal after it is signed by the radiologist. However, your referring physician will receive the report via fax immediately upon signature; you may contact your referring physician for any urgent concerns.
Images: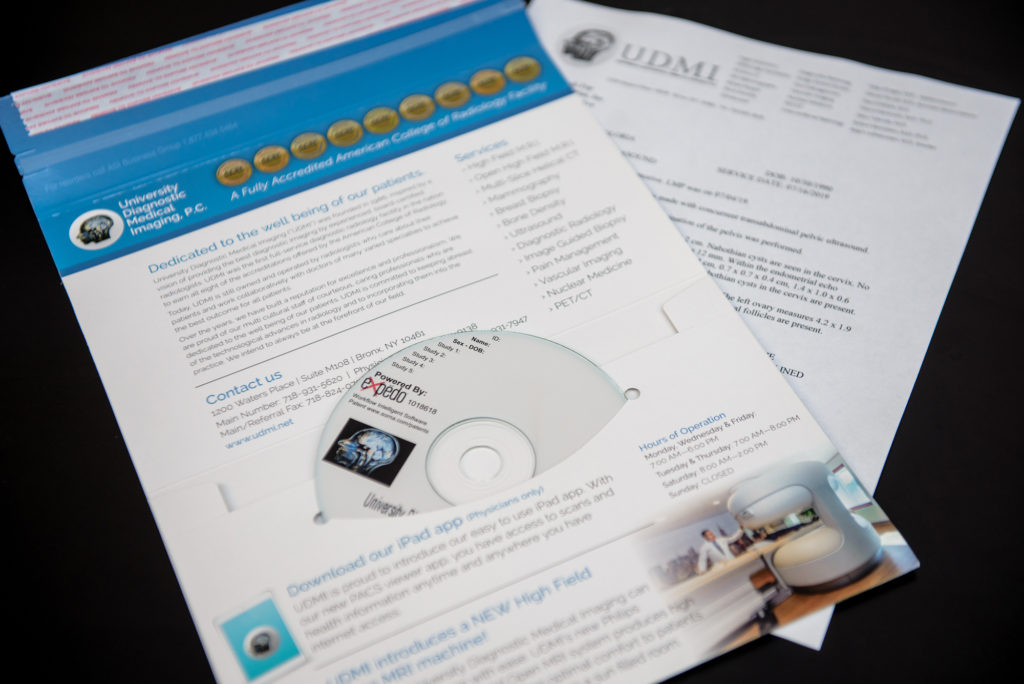 In-person Request (Films &/or Medical Records/Reports): To obtain your images on a CD and/or a complete copy of all of your records (including registration forms, referrals, billing statements, etc.), visit our medical records department, Monday through Friday from 9am to 5pm. Please make sure you have the below applicable documentation with you.
Please be aware that UDMI takes its responsibility and duty to protect patients' private health information seriously. Accordingly, please follow the below instructions carefully. Please note that there are different instructions for reports and images.
If you are not the patient but are requesting records on behalf of a patient, you must provide the following (whichever applies). We cannot process your request if any of the following is incomplete and/or inaccurate.
Authorization to Release Protected Health Information signed by the patient and dated, authorizing the release of medical records to you,
Power of attorney or guardianship records if you are requesting copies of records for a minor child, or someone for whom you are the legal guardian or hold a Power of Attorney for healthcare, and
Death certificate or executor of estate documents if you are requesting copies of records for a deceased patient.
If you need help with any of the above, live chat with and select the topic "Medical Records" or give us a call.