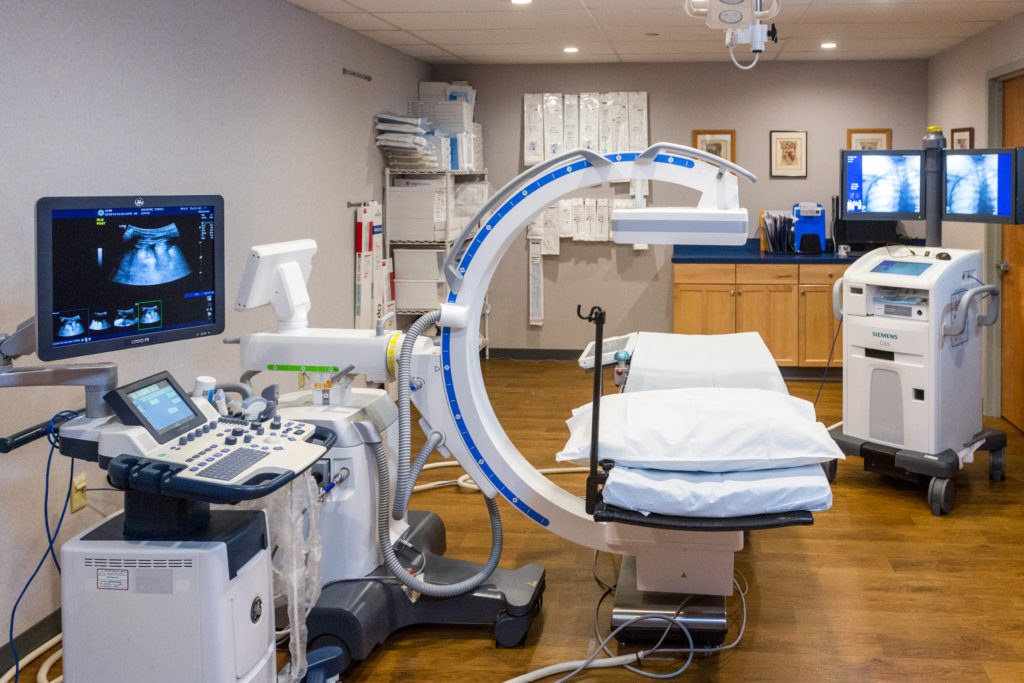 Interventional Radiology (IR) is the minimally invasive, image-guided treatment of medical conditions that once required open surgery.  By harnessing the power of advanced imaging (Ultrasound, Digital Radiography (X-RAY), Computed Tomography (CT), Magnetic Resonance Imaging (MRI) and other innovative methods), interventional radiologists can see inside your body and treat complex conditions less invasively and with unprecedented precision.
Interventional radiology is used for:
Line and tube placement in connection with chemotherapy
Treatment of blood vessels
Tumor biopsies that would otherwise require surgery
To drain fluid and abscess
The essential skills of an interventional radiologist are in diagnostic image interpretation, the manipulation of needles and the use of fine catheter tubes and wires to navigate around the body under image guidance.  Interventional radiologists are doctors who are trained in diagnostic radiology and interventional radiology. 
Well recognized advantages of these minimally invasive techniques include reduced risks, out-patient rather than in-hospital stays, lower costs, greater comfort, and quicker recovery time.  The effectiveness of treatment is often better than with traditional methods.
UDMI commonly performs the following procedures:
Chest port placement
Central line placement
PICC line placement
Port Evaluation/Patency
HD catheter placement
Thyroid biopsy / Head & neck biopsy
Liver biopsy / Abdominal pelvic visceral biopsy
Lymph node biopsy
Lung biopsy
Paracentesis
Thoracentesis
Biliary drainage
Catheter evaluation
Click here for preparation instructions for interventional procedures.